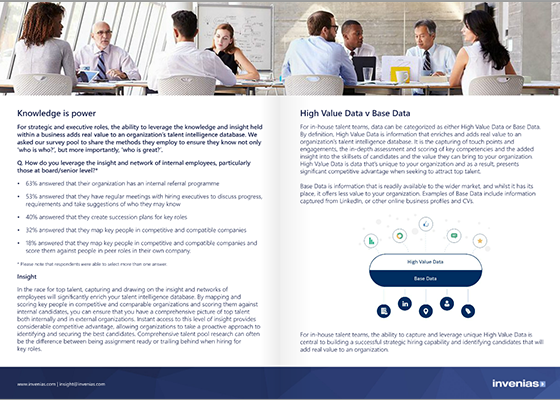 In-house Executive and Strategic Hiring Trends 2017-2018
We surveyed leading in-house executive recruiting professionals, from a variety of organizations and industries from across the UK, Europe and the US. Respondents included representatives from leading organizations including BT, JP Morgan, Molson Coors, Simply Health, T Mobile and Vauxhall Motors.
This report discusses a number of issues likely to impact the working practices of the in-house executive search professional in the coming months including:
- Overcoming a challenging business environment
- Increasing diversity of hires
- Leveraging high-value data and the insight of key stakeholders
- Working with external search firms
- Being more effective
- Meeting the heightened requirements of the GDPR.
Download your free copy
Please fill in the form to request a free copy of the report.
We may use your contact details to inform our marketing and sales activities. We would also like to provide you with news and information about our products and services. If you no longer wish to receive such information, please let us know by unsubscribing from any of our communications.
Details of what we do with your personal data and your rights are explained in our Privacy Notice

Adriana Quevedo, Executive Recruiting Director, Intel
"We have been delighted with our choice of Invenias, it's purpose built to support executive search and enables us to achieve our objectives more efficiently. It's such a user friendly tool, the implementation was in record time and support has been awesome."