Speakers from Transport for London and Invenias shared their insights and experience on in-house executive search at a recent event held by the In-House Recruitment Network.
The breakfast series is back after a long summer break and what an event to come back to! 'How to Revolutionise your In-house Executive Search Function' was an intimate speaker and round-table networking breakfast event for 30 management-level in-house recruitment & HR professionals, who heard from three specialist guest speakers who kindly shared their experience and insights into how to set up an in-house executive search function and how to succeed in this.
This event was a major learning experience for our group of in-house recruiters, many of whom had either only just started to consider an in-house executive search function or piloted one on a small scale. It seemed the event came around at just the right time for many people and that's exactly what we love to hear. The breakfast was held in conjunction with our partners at Invenias, who are with no doubt, the best people to share their expertise on executive search for the in-house recruitment community.
Rebecca was recruited into TfL at the end of 2014 to lead and implement a new executive search function within recruitment and can boast a number of highly successful metrics and achievements where time-to-hire, cost savings and credibility as a function are concerned. TfL are the perfect case study for any in-house recruiter looking to incorporate an executive search function into their department. Charlotte works alongside Rebecca within TfL's executive search function as the Executive Recruitment Manager. With a strong background in executive search herself, Charlotte has been instrumental in driving the change that TfL needed internally in order to establish a successful, prosperous executive search function.
View Rebecca and Charlotte's full presentation: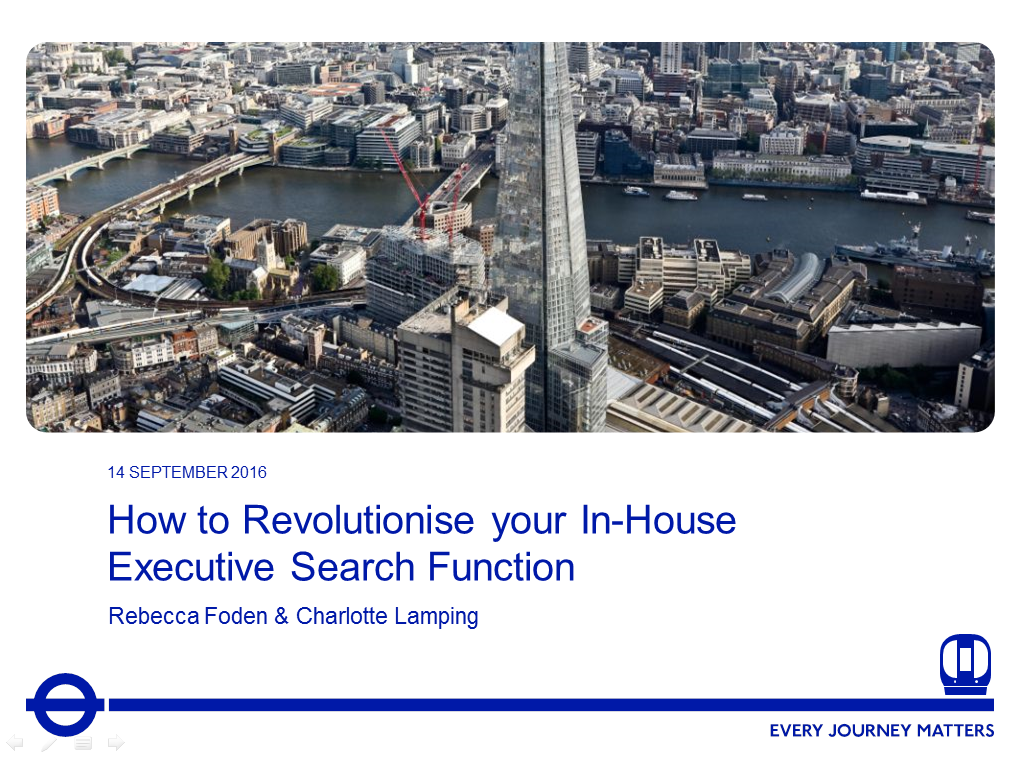 Special Guest speaker: David Grundy, CEO at

Invenias
David Grundy, CEO & co-founder of Invenias, is ideally placed to comment on technology trends and their impact on the executive search function, having had 20 years of experience working in the software industry, plus direct experience of working in executive search as a co-founder of Erevena, a London based executive search firm focused on the technology sector. The lack of suitable technology in the market drove him to co- found Invenias, the world's fastest growing provider of technology for executive search.
View David's full presentation:
We would like to extend a huge thank you to

Invenias for partnering with us in this event and for helping to make 'How to Revolutionise your In-house Executive Search Function' a fantastic event!