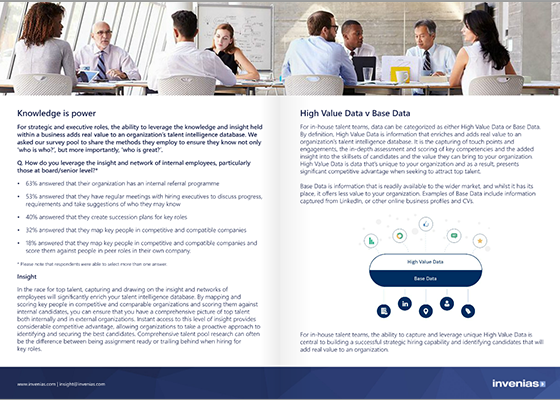 Preparing for the GDPR: A Practical Guide for Executive Search
It is vital that organisations invest time in developing an awareness and understanding of the GDPR. With a plethora of information available, what are the key areas for consideration and how can the executive search profession prepare for the new regulations? This guide provides clarification on some of the more confusing aspects of the GDPR and contains a number of useful resources including a practical GDPR checklist, which will ensure your organisation is best placed to prepare for the new data protection legislation.
Download your free copy
Please fill in the form to request a free copy of the report.
We may use your contact details to inform our marketing and sales activities. We would also like to provide you with news and information about our products and services. If you no longer wish to receive such information, please let us know by unsubscribing from any of our communications.
Details of what we do with your personal data and your rights are explained in our Privacy Notice

Cameron Berry, Data Insight and Training Analyst, Sheffield Haworth
"Invenias provides an easy and intuitive way to manage our data. The dedicated functionality will ensure we record the purpose and lawful basis for processing data with minimal disruption to workflow. The solution offered is very much in line with the way we want to work. We are confident Invenias will support us in meeting the requirements of the GDPR."