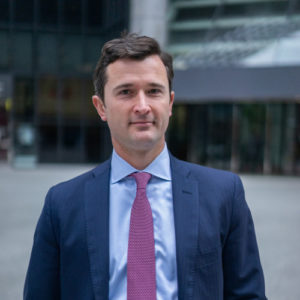 Dan Smith
President and CEO at Raines International Inc.
Fast facts
Born:

Long Island, NY. Grew up in Charleston, S.C.

University:

 College of Charleston

Home:

 Manhattan

Car:

Hertz

Last holiday:

 Maui 

Charity:

 Proud Board Member for

America Needs You

Hobbies/relaxation:

Travel, reading, watching movies, spending time with wife and friends

Inspired by – someone in any walk of life:

people who work to make others' lives better
Your favorite…
Book:

The Right Stuff by Tom Wolfe. I love the history of the space program.

Film:

Rocky. I love the movie and the story of the making of the movie.

Music:

child of the '80s 

Gadget:

This week, Invenias, which we just implemented.

Food: The chicken parm at Bobby Van's on 46th and Park.
Few people have been entrenched in the executive search industry at such a young age as Dan Smith. Dan was first exposed to the industry by his father, who was a partner at Herbert Mines Associates, a boutique executive search firm in NYC. Today, Dan serves as the President and CEO of Raines International Inc., one of the country's leading retained executive search firms, conducting global searches for "C-Suite" executives and their direct reports.
"We are a firm that will not let our clients or colleagues down."
Dan Smith, President and CEO, Raines International Inc.
Through the stories of Dan's father and colleagues at Herbert Mines, Dan gained a tremendous level of respect for executive search. His passion and excitement for executive search is very evident on a daily basis. Dan is a candid, salt-of-the-earth leader who truly embodies his firm's commitment to their clients and colleagues.
"We are laser-focused on building the best team in the industry. I've played every role there is in the consulting career path within search, and I know what great looks like. I view my role as one that supports my colleagues' efforts, and not the other way around," says Dan. "My trust in their professionalism and commitment to the best outcomes empowers our team to do their jobs. Together, we constantly search for better methods, and fortunately, my external network is always happy to share best practices or opportunities with our team."
Dan started as a research associate with Raines in 2005 and became a Managing Director in 2010. "Bruce Raines was ahead of the times and industry by always having the research team serve as a talent development program. One can join McKinsey as a business analyst out of college and become a partner in less than a decade, yet many search firms don't believe the same can happen for their talent," says Dan. He was the chief operating officer for the firm for several years, serving as the right-hand person to the founder, Bruce Raines, and in March 2019 took over as the second CEO in the firm's 50-year history.
A new mission
Dan believes the industry has grown in part because of the increased complexity of issues that client companies are grappling with – an increased focus on inclusion and diversity, culture and values, team development, and learning from past mistakes. "Based on the questions that are asked of executive search firms, the way clients view our value add has certainly evolved," says Dan.
"When I started in search 15 years ago, our website looked the same as Korn Ferry's and Spencer Stuart's, and they were all terrible. No wonder the client requests would sound something like, 'We need a chief marketing officer. Go get me a CMO.' Now, the best practitioners in the industry focus on valuable content creation, sharing analysis and data, and driving toward thought leadership.  No wonder the clients now ask bigger and broader questions."
Dan believes the level of partnership and the appeal to search firms for their expertise in every dimension of making critical decisions has evolved. "We've been brought more under the tent in helping clients set these strategies and then execute them on an ongoing basis."
Improving processes on a global scale
According to Dan, digital has played a key role in unifying the teams at Raines. "Our team is currently spread across Boston, Buenos Aires, Chicago, New York, and San Francisco. And all of us are connected through video and Microsoft Teams, having our research meetings in real-time, building and furthering our relationships on the colleague level at Raines," says Dan. "Digital has enabled us to take our team to new locations and not lose the level of connection required to really collaborate on projects but also celebrate events and each other as a family."
"The single-biggest thing that digital has done for us is that it has enabled us to retain what's special about the culture at Raines while hiring new people in new markets."
Dan Smith, President and CEO, Raines International Inc.
With plans to expand to other major markets like Europe and Asia within five to 10 years, maintaining the culture on a global scale is incredibly important to Dan and will be crucial to the firm's long term success. "One of the biggest areas of opportunity for our field is the candidate experience," says Dan. "I think that executives enjoy being a candidate about as much as anyone enjoys being on hold with their cable service. We're really committed to improving that and getting to 100 percent successful client outcomes, and having the candidate experience be something people recommend to a friend. When people join Raines, that's what they're going to be committed to doing."
Dan on the spot
Is there such a thing as an average day for you?
I'm very fortunate to be able to say that I have fun and fully enjoy every single day, and I could pass a lie detector test on that. That's a wonderful thing to get used to. My average day involves time with my colleagues talking about their client work and side projects. I'm constantly on client status calls to hear how our work is going, our clients' levels of satisfaction, as well as my colleagues' levels of satisfaction. I also interview talent for our clients and our own firm, and help candidates and friends assess opportunities for their careers. And, living in NYC, I'm extremely lucky to be able to meet our clients, candidates, and friends after hours for drinks, dinners, and discussions every week.
What is your business style?
Hire people better than me at every level and every role.

Empower them to do their jobs.

Provide candid feedback or connections to external experts so together we can move forward as fast as possible to achieve our individual and collective goals.
What is your biggest achievement in business?
I love building teams for our clients.  It's so much fun to help assemble a dream team for a business.  If you go to the Team section of our website and go through my colleagues' stories…the people I'm fortunate enough to work with every day…the diversity of backgrounds and experiences and accomplishments – that's absolutely my biggest achievement in business. I believe that the team that we have assembled is certainly one of the finest teams out there, and the fact that I've been able to play a role in helping to build that team is something I am extremely proud of.
What's something that surprises people that they wouldn't know about you?
I'm almost constantly happy, whether the going is easy or tough.  
What drives you on and gets you out of bed in the morning?
I love this field–I love the work, and learning so much every day from my colleagues, my clients, the candidates. I love the entire thing. The philosophy major in me is eager to continue the contemplation of life and existence, a huge part of which is what we spend our time doing with our lives, which is work, which is what I study. 
I've been in this field for a long, long time. And as I told you, I've not met someone who loves it more. There are probably few people who have practiced in this industry since it was birthed who have truly either enjoyed it as much or more than I do.