Note: this blog is for informational purposes only and not for the purpose of providing legal advice. You should contact your legal counsel with respect to any questions or issues regarding the CCPA and/or CCPA compliance.
The forthcoming California Consumer Privacy Act (CCPA) goes into effect on January 1, 2020. In short, CCPA establishes enhanced consumer protection and privacy rights for those living in California.
We provided a summary of what CCPA is and what it means for executive search firms here.
The Invenias by Bullhorn Product Development team have ensured, where possible, that your business can manage this change effectively. We've highlighted below some great functionality in the platform you should be taking advantage of.
Data Privacy
The Data Privacy feature, which may look familiar to those who have used it for GDPR compliance, allows you to have a clear view of all records within the database that have been notified of their data being collected and stored. Some minor configuration changes are needed as part of your CCPA compliance strategy.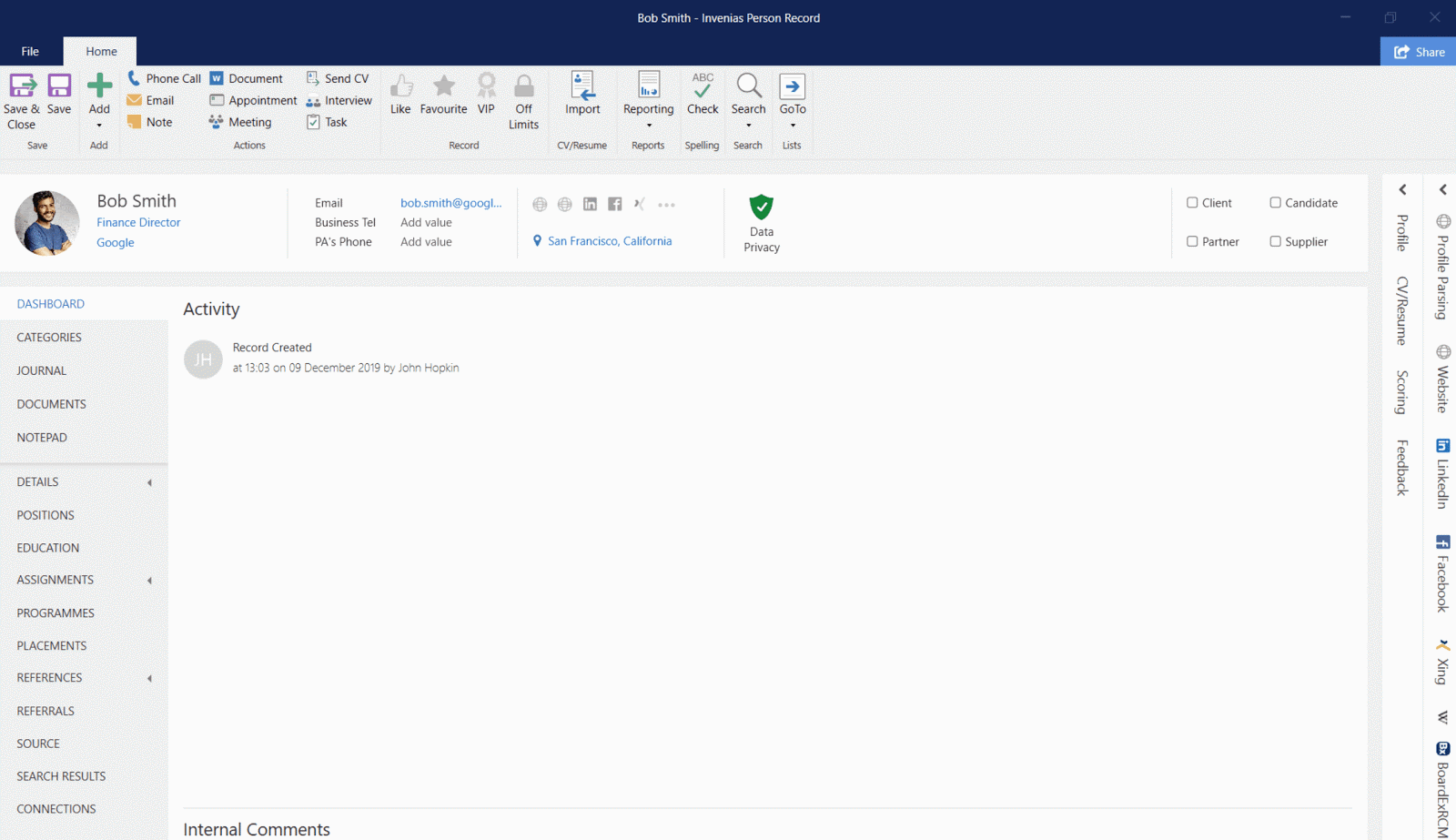 Click the prominent shield icon to view and select specific purposes for why a person's data is being stored and processed.
View an audit trail of Data Privacy activity history on every person/record.
Data Capture Notification
We know that collecting Data Capture Notifications can be tedious and time-consuming, but with Invenias you have a few options to improve the process.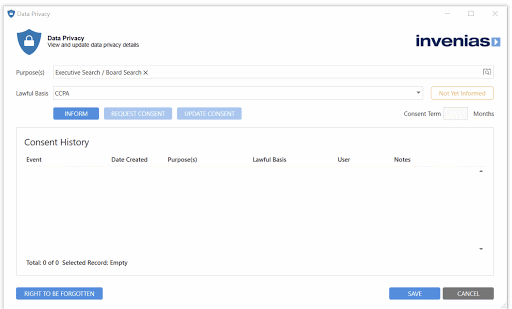 Inform in bulk using the optional Candidate Data Privacy Extension* or via an email, with customizable templates from the user's Outlook mail account.

Talk to your Account Manager to find out more about this functionality.

Utilize simple-to-edit email templates and include links to your CCPA-compliant privacy policy or information on specific purposes for data usage.
Send a message in bulk from a List View.
Invenias Apply
For Invenias Apply users, it's worth highlighting that you can also manage your CCPA compliance responsibilities and strategies from within the solution.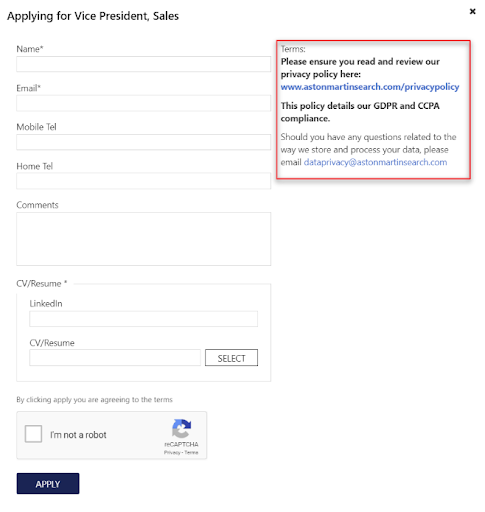 Update a customizable Terms section from the Admin area of the Invenias web app to include a link to your CCPA-compliant privacy policy.
Ensure candidates agree to terms when applying for a role or submitting their details.
Access Candidate Information
When candidates ask for a view of the information you hold on them, you can quickly generate a report in Invenias.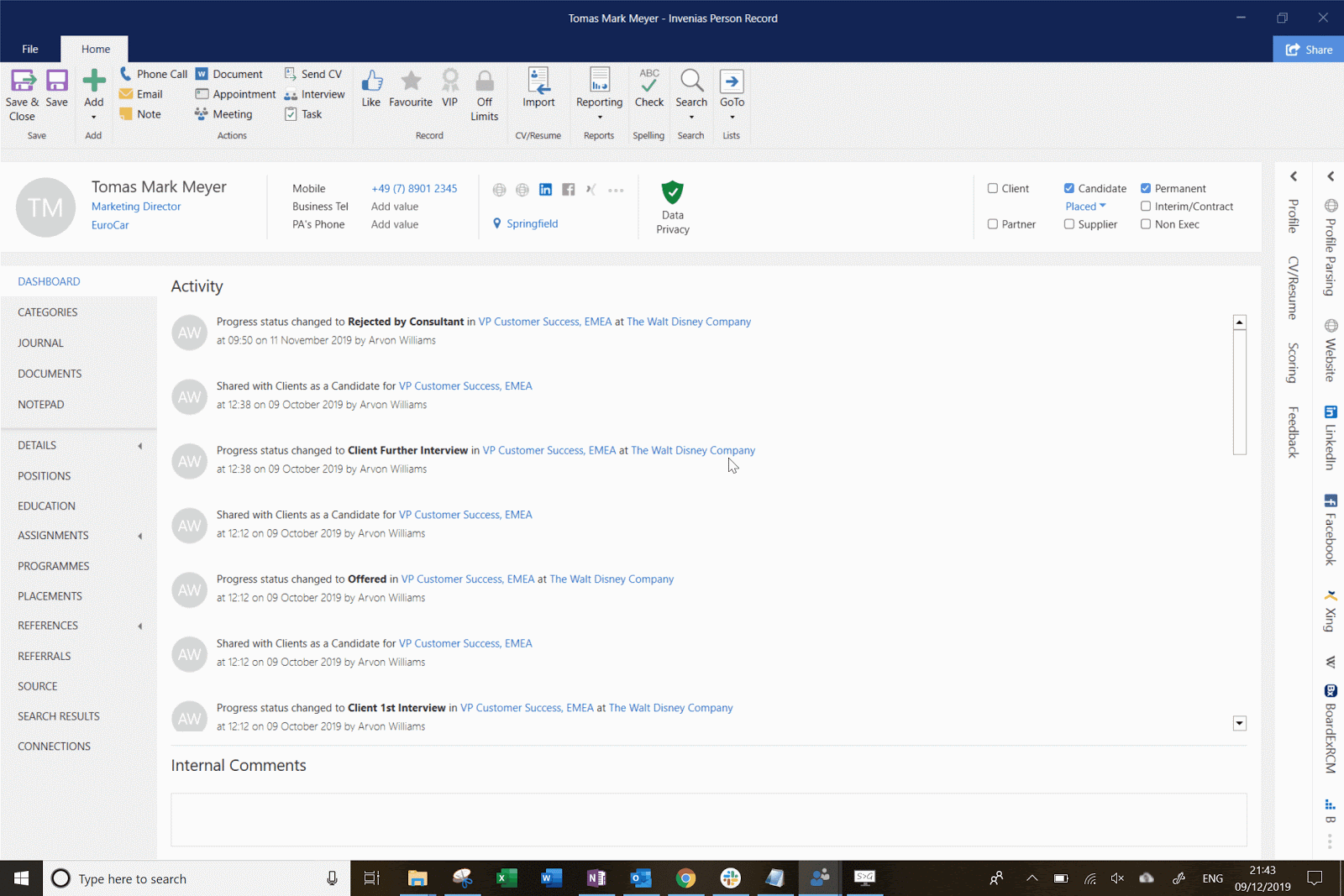 The Right of Access report provides a detailed output of all information held on a contact
Documents and journal items can be individually exported from the person record
The Invenias Help Center provides a guide on processing these types of requests.
We've outlined the highlights in Invenias for managing CCPA above, but there's additional functionality that will allow you to track records that have requested their data not be sold, or would prefer their data deleted from within Invenias.
Getting Your Business Ready
The action of taking inventory of current practices and determining which, if any, need to be updated to comply with the CCPA should happen well in advance of January 1, 2020. Starting the evaluation process early will help your staffing firm be prepared for when the legislation officially goes into effect.
For more information and to stay on top of future updates, we encourage you to visit the California Office of the Attorney General's CCPA website.