Nicole Meyer
Founder & Managing Partner, The Meyer Partnership
Nicole Meyer, Founder and Principal of The Meyer Partnership, a global executive search firm and a former Transaction banker, hiring manager, and talent recruiter, is well-versed in executive recruitment for the Treasury Services/Transaction Banking and Payments-related Fintech sectors. Her depth of expertise stems from 20 years of experience in Transaction and Corporate/Commercial Banking, most notably as Managing Director and Team Leader for Citibank's North American Financial Institutions and Cash Management sales team. Nicole's first-hand extensive knowledge provides her with a unique perspective of the recruitment process. We recently sat down with Nicole to discuss the current landscape of executive search, key trends and challenges facing the industry, and what it will mean to be a successful executive search firm in the future. 
Technology is Changing the Game for Executive Search Firms
During the past 10 years within the executive search industry, Nicole has witnessed the evolution of technology from a mere trend to an absolute necessity, entirely altering the competitive landscape. "The biggest changes I've seen in executive search over the past few years come from technological advances that have created a myriad of search alternatives for both clients and prospective employees. Where executive search was once the norm, even just one decade ago, current cost-cutting pressures are driving clients to use self-service models. It's reducing the number of executive searches that are put out for mandate," said Nicole. "Hiring managers are now sourcing middle-management and junior positions themselves, but are they really getting the right talent? Are they seeing only those candidates who are actively looking for employment? What about the candidates who are not actively looking, who are invaluable contributors to their current employers? Self-service models are only as good and as experienced as the recruiters on the other end. Without deep industry expertise, self-service recruitment models can easily overlook exceptionally qualified candidates merely because they have no presence on active job-seeking media platforms." While the industry doesn't yet have the statistics to show how long candidates remain in roles sourced by these self-serve models versus through executive search firms, she surmises that hand-picked employees placed directly by recruiters and executive search firms remain in their roles for longer periods of time.
"In niche markets like ours, we still see executive search, but by and large technology makes the industry much more competitive."

Nicole Meyer, Founder & Managing Partner
Additionally, digital is a topic that is top of mind for everyone. "Digital has had a huge and positive impact on our business as it relates to the definition and identification of candidates with 'digital' expertise. Digital can be defined in many ways, and it's uniquely defined by each executive search client. Digital, in the current definition within our niche business, has been around for less than five years, and as a result, there are very few candidates who can genuinely claim that they are digital experts," said Nicole. Digital is being defined and redefined daily by clients and the ability of employees to adapt to these changing criteria is tantamount to success. For anyone interested in this field, Nicole recommends becoming an invaluable asset in the area of digital – make it your priority to understand how important this is to your company (and the companies you want to work for). 
Diversity and Inclusion is a Massive Issue—and Opportunity
One of the key challenges in the executive search industry is stewarding clients through the need for diversity and inclusion. Nicole sees this as a significant issue and opportunity.
"I think it's incumbent upon recruiters to influence clients to change their mindset about the kinds of candidates they're looking for. While every client asks for diverse candidates, recruiters need to push clients farther to think beyond what diversity means today and to look more openly and creatively at skill sets that will be needed years from now."

Nicole Meyer, Founder & Managing Partner
"For example, diversity of background, gender diversity and most importantly, diversity of thought (or lack thereof) are often overlooked skill sets that are incredibly productive and important to businesses. There needs to be a greater diversity of thought and diversity of problem-solving skills, yet many businesses recruit the way that they always have which results in the same static candidate hires. It's incumbent on recruiters to push clients to think more creatively and hire more broadly to fulfill business needs in the future, not to mention today."
Talent Intelligence Will Be a Differentiator for Executive Search Firms
In order to thrive in the executive search industry, Nicole points to data intelligence and relevant industry experience as key success factors. Being able to aggregate and analyze client talent acquisition and candidate data for clients is essential and will only continue to be so in the future. "Going forward, technology will enable clients to easily identify the candidate pool. Search firms will be required to have more robust qualitative and quantitative data about candidates and their ability to be successful and accretive to the organization," said Nicole. "Being able to differentiate candidates for our clients is the key to providing value as technology progresses. It'll be easier to identify candidates in the future, but qualifying will be where the true advantage is and is where in-depth industry knowledge and firsthand experience becomes crucial. The direct and deep understanding I have for what it takes to be successful in the financial industries I worked in for over 20 years is keenly valuable to my clients in assisting them to identify and truly qualify the right candidates."
Political Uncertainty Continues
Nicole points to the current global political climate as a circumstance that is playing an ever more important role in recruitment and hiring. "As time goes on and as the current political climate in our respective countries persists, we find that clients and candidates alike are becoming more risk-averse. Embracing potential change is required of all of us; change is uncomfortable for many and the current climate accentuates this. Anxiety has the potential to keep candidates where they are, which means we're seeing risk-averse clients and a risk-averse candidate pool. This political uncertainty is having a direct impact on the recruitment business."
Nicole on the spot
Is there such a thing as an average day for you?
"No. Every day is different, and I love that about being an executive search recruiter. As the founder of my firm, The Meyer Partnership, on any given day I'm involved in business development for my company, candidate identification and candidate assessment. I work on the database daily, entering and updating profiles, I write reports, I meet with clients, and I speak to candidates. I spend a great deal of time guiding clients and candidates alike on their decisions. I would estimate that at bare minimum 20 percent of my time is spent offering advice and guidance to candidates considering making a change and with clients with whom I have built a strong and enduring relationship of trust."
What is your business style?
"I offer proven results delivered with integrity. Transparency, accountability, and trust are also important to me in all my relationships, whether it be business or personal. As a team, I wouldn't ask anyone to do anything I wouldn't do myself. As a service provider to a client, I conduct business in the exact manner in which I would want to receive it if was I still on the client-side. The Meyer Partnership team is a very connected team, and everyone knows what everyone else is working on; we support each other without asking and we always deliver exceptional results. I'm very focused and quite efficient, and time is the most precious commodity in our industry. As a result, my style is direct, to the point and efficient—and I have no complaints!"
What is your biggest achievement in business?
"The Meyer Partnership just celebrated its 10-year anniversary on October 1st. I never thought I would be an entrepreneur. Ten years ago, if someone said I would no longer be a Transaction Banker and would be doing something remarkably different in a different country and be my own boss, I would've said it was preposterous." That said, Nicole found herself presented with several career opportunities, and she made the riskiest decision she could. " I moved to a new country and changed my profession. After all these years, still being a successful and thriving entrepreneur and the head of a search firm is something I'm incredibly proud of. I didn't do it alone; I recruited and built an incredibly strong support team at The Meyer Partnership and we have achieved success together. For that, I'm very grateful."
What drives you on and gets you out of bed in the morning?
"I truly believe I can add value and be helpful to clients and candidates. I'm very passionate about helping candidates get out of their own way in order to see beyond what they already know and see broader possibilities. That's a core piece of what we do in this industry: we help people see bigger opportunities for themselves, to grow, to expand their horizons, and to redefine what's possible. It's my driving purpose to help my clients grow and thrive, and to help introduce them to candidates that they wouldn't have found otherwise–candidates who can propel the business forward. At the end of the day, that is what we're all here to do."
Fast facts
Born: London

Home: New York City and London
University: St. Lawrence for undergrad; MBA from Wharton
Last holiday:  Brazil
Charity: Girl Scouts
Inspired by: The girls in Girl Scouts, Troop 6000. I'm inspired by their joy, their smiles, and their resilience. I'm also inspired by women leaders around the world, those we know and those who go unrecognized and unknown.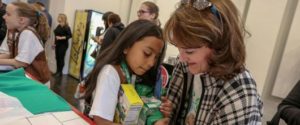 Nicole Meyer
Founder & Managing Partner
For additional industry insights and trends, check out Nicole Meyer's Twitter feed and blog on LinkedIn.