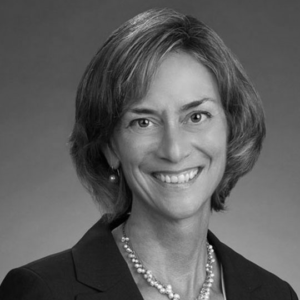 Robin Toft
Founder and CEO, The Toft Group
The Power of a "WE CAN" Attitude in Executive Search
Invenias Global Leaders: An Interview with Robin Toft of The Toft Group
There are few leaders in executive search with as formidable and celebrated a reputation as Robin Toft. Upon engaging in a conversation with her it's immediately evident as to why. Toft has a presence that is simultaneously warm, confident, and eminently capable, and her laser focus on her company's priorities are equal only to her prescience as an industry thought leader.
There is no need to paraphrase the thoughts of someone as eloquent and insightful as Robin Toft, so below is a mildly edited transcript of a conversation between Invenias by Bullhorn and Robin.
What are the biggest changes that you've seen in the executive search sector over the past couple of years?
"My perspective is that searches are faster and more challenging, actually far more challenging, given the talent crisis that's going on in the world and specifically in our industry, biotech and health care high tech. But it is kind of universal, and it's a function of there being not enough qualified candidates out there. I believe the answer is women and millennials, so a huge and heightened forecast on diversity hiring is really on. So I would say those are the two biggest things. We've had, in California, legislation on women on boards. That has kind of been an offshoot of the diversity movement as well."
You talked about the need for diversity, per se. How would you say digital transformation has impacted that?
"Well, we actually have an initiative called WECAN.works. We're actually developing a startup within our own company to address matching diversity candidates, qualified diversity candidates with employers and, at the same time, developing them to be the best and brightest executives they can be, giving them confidence, competence, and career opportunities, if you will."
The WE CAN initiative sounds absolutely fascinating. What's the key demographic that it targets, as far as career level? Executives?
"I authored a book called WE CAN, which is The Executive Women's Guide to Career Advancement. It's a practical guide for advice to women and millennials. Up-and-coming women is really the segment that we're targeting to develop them. We have a whole movement called WE CAN Inside Out, which actually will be the name of the company. WECAN.works is the website for the company, WE CAN Inside Out.
"We believe that a lot of the limitations that women and millennials are feeling … half of the female population being millennial right now. Also, women are an ethnically diverse set. We believe that their biggest challenges are often internal, so we have to get inside and give them the confidence to compete and then the competence through really solid guidance, motivation, inspiration, advisement, and guidance so they can actually move more quickly through their careers, connecting them with really good career opportunities in the end. It's a really exciting time for female executives on the rise."
That being said, the need for diversity and inclusion and the focus on that assumes that there are challenges that the executive search industry must currently address. What would you say some of those key critical challenges are?
"I spend a lot of time educating companies how to attract and retain the skill sets that they want in the context of the talent crisis. A lot of companies don't know that they're competing really aggressively for talent and that each individual they're trying to recruit probably has four or five opportunities to consider. That's point one, is companies need to worry about making themselves attractive and sticky to the talent pools they want.
"The second one is, they need to develop and train people like never before. Historically in the industry, when there were plenty of people to go around, no one needed to really invest in these talent development programs. I harken this back to the Industrial Revolution, where they actually had to train a lot of people to really come up to speed quickly. I think that's happening again.
The number one reason people leave their employers is they don't see any career progression. You can see that with limited talent pool and people looking for career progression, and you're not having it or a commitment to it, is a big limitation."
What's the answer there? We're talking about reskilling, but there are so many ways to go about that, right? You can create your own internal college, or you can partner with other organizations like General Assembly. But what would you say is the most effective way to go about this?
"Right, so I think if companies aren't going to develop their own internal development programs, they can partner with companies like ours, WE CAN Inside Out and other organizations that are actually developing the talent pool of the future for them and actually helping people get there more quickly. There is a variety of leadership and development programs, both insourced and outsourced, that you could leverage, but I think that employers should be looking for that right now."
How have you seen the world's political climate affect the executive search?
"I think it's very obvious to us that this is the year of the female executive. The political factors in the U.S., coupled with the Me Too movement, have really created a huge push to equality. That, coupled with unprecedented investment, specifically in our industries of biotech and health care high tech, are just getting huge, huge investments through venture and private equity and unprecedented on every level, relative to what has happened in years past. I think it's a really fascinating time."
We've noticed an influx of private equity in the staffing industry in the past ten years that is unlike anything we've ever seen. Are you seeing the same thing in the executive search?
"Absolutely. I think PE firms have a lot of wealth to invest, and that they are taking a really extreme interest in executive search as a place to place an investment, given the talent crisis, the worldwide talent crisis.
"I think, again, from our standpoint, a lot of people in the world are not familiar with the California board legislation, but Jerry Brown actually signed into effect that women need to be represented in all public company boards by the end of 2019 and, depending upon your size, could be two or three female executives need to be seated on boards. For me, this is as big when women got the vote.
"The harsh reality is that 70% of board search was not being taken out to search in the past. People were hiring through their networks. So if the mandate is that you must hire women to executive boards, the boards typically don't know those women. One of the greatest reasons to hire an executive search firm is to make your network bigger. We're seeing a lot of action with board-ready women programs and actually doing a lot of board search because we're based in California."
What is the single biggest issue impacting your business's ability to achieve its future revenue and growth goals?
"Keeping up with demand. We have a model that's actually faster and more efficient than most search firms, and yet still, searches are getting longer and harder. Really, being able to conduct searches as efficiently and effectively as in past years, given the limited talent, and keeping up with client demand.
"I would say the second challenge is growth, just keeping up with growth. We actually grew 35% in 2018, and we continue to grow at really high levels, given the demand for executive search services."
What are some of the corollary challenges that come along with that rapid growth? For example, scale, culture, attrition?
"We've made a conscious effort to build a very different search firm, so we typically develop our own talent. We have career pathing that's very significant inside, and we develop people from kind of foundational recruiting into senior partners over time. For us, it's always … We're always hiring, and we're always looking for exceptional people that know either industry or recruiting. We're willing to teach them the other side of that equation. But we're more likely to hire out of our industries and teach people search. Developing talent along that progression is a real strength of our company, but it's also very hard to do."
You hire doctors and healthcare leaders and teach them executive search?
"Yes. We built this company like a biotech company because I wasn't from the executive search industry. I actually put a big mission in the middle, hired amazing people. I teach, train, and develop them, and I think that's hard for a lot of search firms to do because a lot of them are transactional and less aligned to building a company of high value that will last for years. Just hiring senior partners that are highly accomplished makes a bunch of individual contributors, versus a cohesive team that functions as a team and can grow over time."
What do you think the number one issue will be for your clients in 2019?
"We've already spoken about retention and providing leadership development programs, so I'm going to say they will all have to adjust their old-school expectations for the perfect candidate, the one with high potential and the ability to grow into the role. There's never been a perfect candidate, but particularly today. We're looking for high-potential candidates that grow, less of the technical match, more of the future potential."
Where do you see single-handedly the greatest value for the search firm of the future?
"I think matching qualified candidates with employers most efficiently and effectively, which means very fast. Again, it's happening more quickly than I think any of us are accustomed to moving. We have always been a firm that was centered around being fast and efficient. That's turned into a really important parameter of the search firm."
That's very interesting to hear you say that because traditionally, the model of executive search has been around entertaining and tolerating the ambiguity and longer search cycles, right, because we've been so focused on quality that we potentially sacrifice speed. Has that changed now?
"Definitely. Ten years ago, that was the premise, that if you were too focused on speed and return on investment, that you must be sacrificing quality. Now you have to have quality with speed, and that is a real art. Again, if your firm's not set up for it, I think you're in for a rude awakening because it's moving faster and faster."
Is there such a thing as an average day for you, and if so, can you briefly describe it?
"Sure. As a CEO, I always wake up at 4:30 and talk to clients and candidates on the East Coast and in Europe for a few hours. I do a lot of email, take a break, run my dogs, and then I drive to the office. I get to the office around 8:30. I'm working in the office till 5:30 or 6:00. Then I usually have an evening event. Try to go networking a lot. I'm still trying to build relationships. There's never a down moment.
"I'm doing a lot of speaking about issues of the talent crisis and women and millennials and how to develop them and the whole book. That's what a normal day is like. I would say it probably goes … After I get home from my event, I usually do email until about 10:00 and then go to bed, so they're long, hard days. But you know what? This is my passion project, so it really doesn't feel like work. It's okay."
How did you get into the executive search industry?
"I actually have three chapters in my career. The first ten years was in a laboratory, of all things. I raised my hand early and said I wanted to go into sales, so my second ten years was in commercial roles within the industry. I finished that career in a senior vice president-level role with Roche.
"But I intentionally left that job when I landed in the ER with cancer. I said, 'I'm going to change the way that healthcare is delivered in my lifetime and particularly around oncology and personalized medicine.' It was kind of a calling borne of a career spent developing all the foundational skills. I knew I wanted to be in search for three years before I actually did it, but I actually took that moment to say, 'I am resigning my executive role, and I am going to start a search firm. It's going to be very different.'
"My goal and reason for starting a search firm remains the same. It's really to change the future of medicine. In order to do that, we need to mobilize all female and Millennial talent into these roles, or we're not going to have enough people to get it done.
"So for 10 years, I've been running a search firm, and it's been amazing because I didn't really know how to construct one. But it's actually turned out very well, and I'm very proud of the team environment that we've created."
How would you describe your approach to leadership?
"I believe in hiring amazing people, teaching, training, trusting, and empowering them. I'm very proud to serve as a mentor, coach, and advisor to both my internal and external customers. I would say from a business standpoint, facing the outside world, super high integrity in the context of assignments. We would prefer not to collect the full fee if people are unsatisfied with our work, just building a reputation of really high quality and integrity. That's every person who works here. They all believe in the same values."
Ron Giannotti, The Toft Group President and COO and colleague of Robin, added:
"Since working with Robin, I would describe her leadership style as very purpose-driven but people-first, whether that's with the people she works with or the clients she has. I think that's, in this day and age, that's more of a humanizing approach in the business world."
What has been the toughest business decision you've had to make?
"About nine years in, I had to really build a new executive team. I had to release my startup CFO/CEO and hire two officers to fill those roles and have a real robust team around the table. Given the size and complexity of the company, we really needed this expanded leadership team to impact this platform of growth, and I needed some financing and M&A skills as well. The two individuals that I have serving as my president and also COO, Ron Giannotti here in the room, and CFO Lynette Dylan, were both industry professionals of 20 years, tons of startup and rollup and M&A experience. That's really what I need for the next 10 years. We've grown from zero to $10 million fast, and we're trying to grow from $10 million to $20 million even faster."
What would you say is your biggest achievement in business? I imagine it's hard to pick just one.
"You know what? It's recruiting, developing, and retaining 20 amazing, passionate, experienced team players, all of whom I've enjoyed having a beer with or, even better, a glass of wine. My second would be writing the book, WE CAN, but that's not nearly as rewarding as working with these 20 people."
What's the best piece of career or business advice you've received?
"When I was 16 years old, I read a book called Do What You Love, and The Money Will Follow. I've been living my life that way ever since."
When you wake up in the morning, what drives you to get out of bed?
"My dogs are hungry. I have three Labrador retrievers, and one of them's a puppy. When they wake up at 4:30, there's no sleeping in. Every day to them is the same. There's no weekends in my house, but we go to the beach instead of to work on the weekends."
Where do you see yourself in 5 or 10 years?
"I really believe that I will continue my path to public speaking, inspiring and developing the next generation of executives, and being a WE CAN Inside Out movement leader. That's really what I'm going to be doing."
What would you be doing if you weren't in executive search?
"It's going to sound crazy, but I'd probably be breeding Labrador retrievers for Wounded Warriors and living in the mountains."
What's one surprising fact about you that people wouldn't know?
"When I was younger, much younger, I wanted to be a professional water skier. That didn't work out."
FAST FACTS:
Birthplace:

Detroit, Michigan.

Favorite car: Porsche 911
High school: Southfield-Lathrup
College: Michigan State University
Home: San Diego and Half Moon Bay
Car you drive: Porsche Macan Turbo with dogs in the back
Last vacation: I just took the whole team to celebrate a great year at the Ritz-Carlton in Maui.
Favorite charity:

I am on the board of several charities: LEAD San Diego, Scripps Mercy Hospital, and the Clearity Foundation for Ovarian Cancer. Ron is on the board of the Center for Community Solutions – a group combating domestic and sexual violence in our community. Giving back gives me tons of joy.

Whatever you give away comes back to you somehow.
Favorite hobby: Hiking in nature and doing yoga, also in nature.
Biggest inspiration: Oprah
Favorite book: We Can or Good to Great
Favorite film: A Star is Born (2018)
Favorite music: Country
Gadget you can't live without: wine opener
Favorite food: Oatmeal cookies