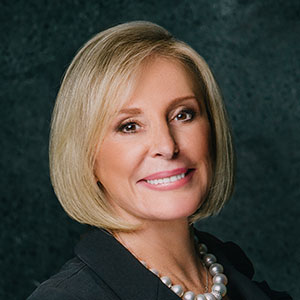 Janice Ellig
CEO, Ellig Group
The Boardroom and C-Suite Challenge – Gender Parity
Janice Ellig is on a mission. Described by Bloomberg Businessweek as one 'the world's most influential headhunters,' she's the CEO of Ellig Group, an executive search and leadership consulting firm that is women-owned and led. On paper her mission is simple: to see gender parity on corporate boards and in the C-suite. In reality, she admits that this is not as simple as it sounds.
A pioneer in the placement of women and diverse executives in senior roles, Ellig is up against what she describes as the 'glacial rate of change'. But she's unafraid to speed things up.
"It's not always easy," she concedes. "Search firms have a responsibility to take what can be a difficult stance and show their clients the positive impact of having a diversity and inclusion intention. When clients are intentional, it is our responsibility to offer and execute value added solutions. Presenting clients with outstanding diverse choices enhances their boards and their C-suite."
In 2011 Ellig was elected President of the Women's Forum of New York and embarked on a significant initiative to speed up change. "The idea was to celebrate those CEOs/boards that were accelerating the pace of change for women on boards," she explains. "So, we launched the Breakfast of Corporate Champions honoring those companies above the national S&P 500 average. This biennial event has grown to over 650 executives convening to honor and hear leading CEOs speak on the business imperative for gender parity and how to get there. It is an amazing gathering of CEOs and directors – the game changers." The Women's Forum of New York's 5th biennial Breakfastwill occur on November 7, 2019, with a full program of speakers.
Agents for Change
Ellig sees search firms, like her own, as positive agents of change, working with CEOs and boards to take action. Her passion stems from the belief that organizations are doing themselves – and the broader community – a huge disservice by ignoring over 50% of the population. Ellig is unwavering in her commitment to tap into this pipeline. She says: "The supply is there; it is a demand issue. The large pool of highly qualified women and diverse candidates should not be overlooked.
"However, change does not happen overnight. In 2015, I spoke and wrote about companies setting a 10-year target, an inspirational but doable goal, to achieve gender parity. A strategy set by the Committee for Economic Development in Washington D.C., of which I am a Trustee, is to fill every other open board seat with a highly qualified director – a woman. Boards can then achieve parity by 2025. You don't need term or age limits – just follow the 'every other one' strategy. It is a great focused and intentional strategy – and it works!"
Ellig's own firm practices what she preaches. Over the past five years, 75% of its executive appointments and 85% of its board appointments have been women, people of color, members of the LGBTQ community, people with disabilities, and veterans.
"The supply is there; it is a demand issue. The large pool of highly qualified women and diverse candidates should not be overlooked."
Janice Ellig, CEO
Reimagining Search – Reimaging Leadership
Today's workforce is multi-generational, creating a complex work environment where Ellig Group is reimagining search to find executives that lead in new ways. "Corporations have four generations in the workforce – Boomers, Gen X, Millennials, and Gen Z," Ellig notes. "This is a new phenomenon. It's no longer about command and control; it's about coaching and providing feedback to Millennials and incoming Gen Z employees on a daily/weekly, rather than an annual basis. It's what they expect. It is what they look for in their careers; it is what will retain them.
"These are the future leaders of our organizations and it is about reimagining leadership to stay relevant and recruit top talent. For firms like mine, the pressure is on to deliver this type of leader to our clients. To do this, we combine innovative technology, experience, and great judgement.
"Our clients want both speed and quality, so we've invested in the Invenias database platform, including the online client portal that gives 24/7 access to their search. This level of transparency means we have to stay on top of things and ensure that every client or candidate conversation is recorded in the database.
"In addition to this new technology, we also heard from our clients that they wanted more services to enhance their entire talent lifecycle. As a result, we launched a leadership consulting practice that offers our clients a wide range of services, such as executive coaching, leadership development, talent assessment and onboarding initiatives. These programs complement our clients' existing talent strategies and reinforce Ellig Group's commitment to the long-term success of our candidates and client partners."
Keeping up with wide-ranging pools of talent is important and Ellig's firm casts a wider net to capture diverse candidates. One example she notes, "We sponsor the CDO Summit in New York for Chief Digital Officers, which keeps us informed on where to find the top digital and data experts today. A CDO today could easily be the right candidate for a CEO position tomorrow and we need to keep abreast of this talent."
"It's no longer about command and control; it's about coaching and providing feedback to Millennials and incoming Gen Z employees on a daily/weekly, rather than an annual basis. It's what they expect. It is what they look for in their careers; it is what will retain them."
Janice Ellig, CEO
Ellig Group's Three Pillars: Client Experience, Candidate Success, and Diversity and Inclusion
The firm is built on three pillars: Client Experience; Candidate Success; Diversity and Inclusion. Ellig continues: "To add value, we've augmented these pillars with both our new Invenias technology and critical strategic partnerships that provide clients with a broader platform of services. These include big data/data analytics, team building, crisis management/reputational management and social media for individuals.
"Our new technology underpins the Client Experience and Candidate Success pillars of our business. We use it to help us make the experience positive at every stage of the search and onboarding process," she explains. "As part of every search assignment we offer assessment capabilities with our internal certified coaches, and on-boarding and coaching services for the first 90 days with the successful candidate and hiring manager. It augments client satisfaction and candidate success.
"But at the core of a great reputation is an outstanding team. At Ellig Group, the team is intellectually curious; they dig deep into what clients want – and what candidates expect. As a company, we practice what is highlighted on our website – the 10 Cs. And we look for these attributes in the clients we represent and candidates placed: Character; Courage; Commitment; Collaboration; Competencies; Confidence; Communication; Curiosity; Champions; Common Sense. These 10 Cs are fundamental in how Ellig Group operates and how we assess candidates."
She continues: "This also applies to the assignments we take on. We need to believe in the company, in the CEO, in the way they operate, their commitment to employees, their reputation in the market, and, of course, how they value diversity and inclusion. Why is this important? Because as we recruit executives to a client, we have to be highly credible in marketing that client – in telling their story. Our belief in the client and deep understanding of their business gives us that credibility and it's why candidates and clients value us as trusted advisors."
The Third Pillar: Diversity & Inclusion
This brings us to the third pillar of the Ellig Group's business: Diversity and Inclusion. Ellig says: "It can be a challenge, but sometimes we have to educate a prospective client about its true benefits. We do this by demonstrating with facts why diversity and inclusion is important and what its impact can be. We talk about the numerous research studies by Petersen Institute, Credit Suisse, Catalyst, and McKinsey, demonstrating the strong correlation and impact of gender diversity on financial performance and reputation.
"We highlight how companies focused on diversity and inclusion will attract the best talent, be more innovative, and enhance their reputation and position in the market. On each assignment we provide our clients with outstanding diverse choices. And, these choices represent a client's employees, consumers, shareholders, and communities."
Finally, Ellig says that the groups and forums she's involved with, such as the Women's Forum of New York, the U.S. 30% Club, Women's Corporate Directors, Catalyst, the Executive Leadership Council, and the Committee for Economic Development, to name a few, are powerful voices, adding: "They are change agents accelerating the pace of change for diversity and inclusion. At some point, I would hope that we don't need these groups because we will be a society where parity at board and C-suite level is a foregone conclusion."
Janice Ellig … on the spot
Is there such thing as an average day for you?
No! When I left my corporate career to go into search nearly two decades ago, it fit my entrepreneurial mindset. Every day is different. It presents the unexpected, unanticipated. It is exciting as well as challenging; learning about each client, their business strategy, their needs, and being a true advisor feeds one's intellectual curiosity.
Describe your journey into executive recruitment
From starting at a medical center as Head of Human Resources, I progressed into corporate America, with positions at Pfizer and then Citigroup, where I helped take a company public. I became involved in several women's groups and co-authored my first book, "What Every Successful Woman Knows." The book opened up a new path of helping women specifically advance to the C-suite and boardroom. I wanted to make a difference. Moving into search, with a focus on diversity and inclusion, was a natural step for me.
Describe your business style
Strategic, direct, and inclusive. My team is integral to our decision making. I am also a natural people connector which is good because that is what I do. My mother would say to me: love what you do, stay close to your sisters, and make a positive difference. With my focus on gender parity, I simply expanded the sister circle!
What's your best piece of business advice?
Three pieces of advice: One's success is not a solo act – others helped you; giving back to this planet more than you took out is a must; and believe in yourself, take calculated risks – and just do it!
What has been your toughest business decision?
That's a tough question – I've been very fortunate – not faced that yet!
What's your biggest achievement in business?
Twofold: Firstly, running a firm with such a talented group of women. Even though I'm the CEO, I really don't lead them – they take initiative, support each other, and are a phenomenal team, dedicated to serving our clients and candidates; Secondly, I'm proud of being a past President of Women's Forum of New York and launching the Breakfast of Corporate Champions in 2011. Now chairing the 5th biennial event on November 7, 2019, it is very gratifying to see its impact. CEOs are accelerating the pace of change for women and diverse expertise in the C-suite and boardroom. They leave the event saying, "I see the pipeline of talent; Gender parity is good business."
What keeps you awake at night?
On the business side – staying relevant!
What drives you on – gets you out of bed in the morning?
The belief that we are helping to change the landscape in corporate America. CEOs/boards are responding. And I am a small, but steady part.
Where would like to be in five- or ten-years' time?
It's more about what I want to see, which is a reversal of the glacial pace of change to ensure gender parity. On a personal front, spending more time with family and friends, and spending a summer in Italy.
What would you be doing if you weren't in executive search?
If I had the talent, I'd be a singer! But early on in my career I admired David Frost and Barbara Walters. And now I meet and interview outstanding executives – just not on network TV.
Tell us something surprising about yourself
My husband Bruce and I have visited 150 countries – if it has a flag, he counts it!
Fast facts …
Born: New York City
Status: Married
School: Somers Central High, NY
University: University of Iowa, Iowa City
Home: New York City
Car: Never in New York City
Last holiday: Barcelona to Venice cruise
Charity: Actors Fund; YMCA; Scholarship in my Sister's name
Hobbies/relaxation: Cooking/entertaining
Inspired by: My mother, my sisters, and great women leaders like my friend Maggie Wilderotter.
Favorite …
Book: Dare to Lead
Film: Hotel Rwanda/ The Big Chill
Music: Whitney Houston
Gadget: My cell phone
Food: Everything except escargot!
Visit Ellig Group's website