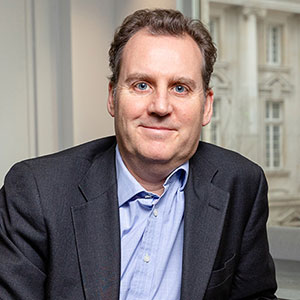 Tim Sheffield
Chairman, Sheffield Haworth
Ensuring survival in executive search
Remaining relevant in today's highly competitive business climate is one of the executive search industry's toughest challenges, according to Tim Sheffield, Chairman of Sheffield Haworth. "Clients are far more sophisticated in how they acquire senior talent than ever before," he explains. "Many have pretty impressive in-house talent acquisition teams, so our industry has to ensure it is adding value – or what is its purpose?"
Sheffield is well placed to have a view on the industry in which he's carved his career for almost three decades. It wasn't his first-choice of career. Rather, he fell into it after attending a job interview on being made redundant from his position trading equity derivatives in The City.
"I arrived for my interview, but the recruitment consultant failed to materialise. It turned out that he'd left the previous day."
In a strange twist of fate, Sheffield was offered the vacant consultant position, which he accepted.
"It was on the understanding that I would return to the world of finance at some stage later that year," he says. "But three months into the job, I was loving it so much that when a trading position came up, I turned it down."
The rest, as they say, is history. Just two years' later, at 26-years of age, Sheffield teamed up with Nigel Haworth to establish the firm of which he's Chairman today.
In the ensuing years, he has observed a migration of talent from the executive search industry into in-house teams. There's also been much commoditisation of executive search and he believes those service providers that are becoming commoditised are now finding it a difficult market. Why? "Because companies are seeing that they can do it better and cheaper themselves in-house," he says.
Sheffield's absolute focus on remaining relevant means that his firm is evolving into a global multi sector talent consulting firm. "We know we must demonstrate how we add value and validate the fees we charge," he continues. "It's important to recognise the changing needs of our clients and adapt our model accordingly. Whether that's our pricing; how we engage; developing new services; or moving into new areas, such as talent advisory and consulting solutions."
Slow pace of digitalisation
Sheffield has an interesting perspective on the impact of digital in executive search. "When I compare our industry to others, I have to say that executive search is way behind in embracing digital. Not much has changed in recent years, with consultants using the same communications channels and technology that have been around for some time.
"There is a huge opportunity for organisations like ours to take the lead in digital services and use them to better engage with clients and deliver value. That's why I'm looking forward to our team at Sheffield Haworth using the new Invenias X Client Portal to deliver market insight and analysis to clients in a more digital manner.
"We also recognise that as a new generation of leaders enters the talent market, they will be expecting to engage and interact via the latest digital means. So, it's not just a case of remaining relevant to our clients, but to the candidates as well."
"As a new generation of leaders enters the talent market, they will be expecting to engage and interact via digital means."
Tim Sheffield, Chairman
Tapping into a global talent pool
This new generation of future leaders is also increasingly global. Sheffield believes the executive search industry must take a global view on where the talent is. After all, if there's a great position in London or New York, top talent will relocate.  "I have spent a lot of time in the Middle East, India, and Asia where the depth of talent in technology and digitalisation is proving transformative. For example, we find that clients no longer see India as purely an outsourcing region, but as an innovation region built on highly talented people."
Interestingly, Sheffield envisages opening a few more offices, to complement the ten international offices he has in the group. "Building an international business is not for the faint hearted," he says. "It's hard work, demanding lots of sacrifices personally and professionally. Some firms opt to join a network to extend their global reach, but that's not how we've developed our integrated global model. Instead, we've grown our business organically over the years. I was initially warned off taking on the Americans in their own back yard, but we now do an enormous amount of work in the US and have a highly respect brand in the region.
"Of course, this means that there has to be a technology platform on which to build a global search database and to integrate teams. Our cloud-based platform from Invenias gives consultants in the US, London and other parts of the world access to the same knowledge and data wherever they're working or travelling to – making us, as a company, more efficient and better at what we do."
Adding value in the future
With his focus on relevance, where does Sheffield see the value of executive search firms in the future? "One of the holy grails in our industry is our access to senior decision makers and the networks we have with them," he responds.
"Firms like ours can provide these senior decision makers with more tailored and relevant solutions by really getting to know their business strategy and helping them create a competitive advantage. For example, there is a growing trend for using independent consultants to deliver strategic transformation projects or helping clients build robust succession planning programmes to future proof their business.
"Technology is an important enabler in all of this, but everyone has access to platforms such as LinkedIn and newsfeeds like Bloomberg. As a specialist firm with global reach, we saw early on that it's not who you know, but how well you know people that's important to finding and securing the right talent."
The executive search industry also needs to revisit its approach to managing and developing its own people in the future, according to Sheffield. "I think there are opportunities to improve the way in which firms incentivise and compensate their people, especially in the US," he says.
"Being paid a proportion of what you bill as a search consultant is the typical model, but a small number of firms, including our own, have moved towards a more balanced approach. For example, a performance scorecard might recognise a person's contribution beyond just their billing capacity. This could include recognition for the quality of services provided to a client or the internal development of talent, which in turn makes an impact on the value given to clients. It might also include the consultant's contribution to moving into new markets or developing new services."
"It's not who you know, but how well you know people that's important to finding the right talent."
Tim Sheffield, Chairman
Future proofing business with talent
Sheffield is adamant that, despite the political upheaval in Europe as the impact of Brexit makes itself felt, London will continue to be a magnet for executive talent. "The executive search sector will keep growing as client organisations look to future proof their businesses by bringing on board leaders in areas such as digital and smart technology. These are structural changes facing every company, rather than as a result of a cyclical economy, and our clients have to think about what the profile of future leaders look like, irrespective of the political climate."
Sheffield continues: "In the end, executive search is a people business – our own people and the leaders we're recruiting for our clients. My ambition for Sheffield Haworth is to continue to attract and develop the right people to position us as the leading multi-sector global talent consulting company. The onus is on us to use the new technology available to tap into diverse information sources that inform our decisions and enable us to offer a relevant, insightful services to our clients."
It seems that Sheffield's ambition aligns closely with his clients' – to continue to prosper by bringing together the right talent and technology in a way that future proofs the business and creates opportunities for growth.
Tim Sheffield … on the spot
Describe your business style
To be successful, you must be passionate about what you do, determined and organised. I'm also not afraid to take risks and to learn from experiences, both good and bad. Good leadership comes from putting others ahead of yourself. It's about supporting your people and giving them an opportunity to challenge themselves and grow.
What's your best piece of business advice?
You just have to figure it out. Try not to be distracted by events. Listen to people and recognise when you've got it wrong.
What has been your toughest business decision?
I don't mind making tough decisions. For example, letting people go is not nice, but it is never personal.
What keeps you awake at night?
New ideas buzzing through my mind.
What drives you on?
The sense that I have a responsibility to the business; to everyone who works here. I love creating something from nothing.
Where would you like to be in five- or ten-years' time?
I'd like to continue playing a role in the future success of Sheffield Haworth, but I also want to spend more time with my family and get involved with other business interests. And I'd like to use my experience to help other organisations, such as the spinal muscular atrophy charity SMA Support UK and the International Paralympic Committee, both of which I'm currently involved with.
What would you be doing if you weren't in executive search?
When I started out, I wanted to be a bloodstock agent or breed race horses, so they're both options.
Fast facts …
Born: 1966
Status: Married, 3 children
School: Gresham's, north Norfolk
University: Anglia Ruskin, Cambridge – Business and Finance
Home: The Chilterns
Last holiday: Galapagos Islands with my wife
Hobbies/relaxation: Horse riding, tennis
Inspired by: Bobby Robson, the former England and Ipswich manager who took the football club from nowhere to be a big success in the late 70s. He had passion and determination in spades
Tim's favourite …
Book: Autobiographies
Film: The Shawshank Redemption
Music: Fleetwood Mac, Dire Straits, Prince, Coldplay
Gadget: Surface Pro, iPhone and cordless headphones to get me through the daily commute
Food: Most things except olives!
Visit Sheffield Haworth's website